Not as lot is known about Cork's Crimean Cannon and we are grateful to Ruben O'Leary for bringing the details and pictures to our attention. The cannon is located overlooking the water in a public park area.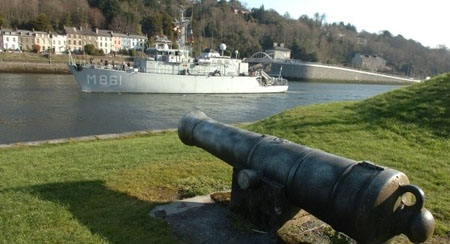 The Dutch minesweeper Urk arrives in Cork, 2013.


According to The Crimean War and Irish Society by Paul Huddie, Cork was the first Irish city to ask for Crimean war trophies, a pair of guns arriving by steamer on July 19 1857. Apparently the civic ceremony that followed their arrival was the biggest in the country and included guests such as Prince Napoleon of France, himself a Crimean War veteran. From this we can deduce that there were originally two cannon. Today we are only aware of one.
The picture below is of the cannon in 1861 from the National Library of Ireland. There is a plaque on the gun carriage that reads: "Captured Sevastopol 1855". The other pictures were taken recently.

ADDITIONAL INFORMATION











FACILITIES

Access all Year, Access by Road, Access on Foot, Restaurant/Food

LANDSCAPE

City Centre

REGION

Ireland

THE FEATURES PRESENT

Crimean Cannon Location, past or present