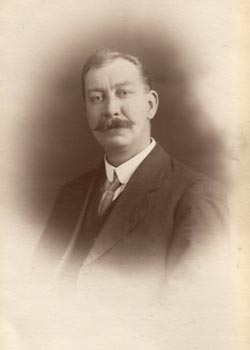 Sidney Thomas Osborne

1884 - 1966
117 Upper Addiscombe Road
Croydon
Surrey
United Kingdom




Tom as he was known was born in 1884, the 7th child of a blacksmith in Upper Caterham, Surrey. Life was not generous to the large family who lived in Spencer Cottages, 5 Park Road, a two up, two down house near the Forge where their father worked. Alice, the eldest child was 11 years older than Tom and Ernest, the fifth child, had died of a nutrient deficiency a year before Tom arrived. By the time Tom was 11 years old he had 10 living brothers and sisters.

Tom's parents were probably not over literate and this led to an interesting variation of the surname. Tom and his youngest brother Aurthur (sic.) were both recorded at birth with an 'e' on the end of their name. This was probably an oversight on the part of the family that has persisted since.

By 1901, when Tom was 17 years old, the family had relocated to Cherry Orchard Road, Croydon. At the time Tom was working as a gardener's assistant. Tom lived with his parents until, in 1910, he married a lady of Irish descent who came from Caterham but was living in Croydon also. Lily (Lydia) and Tom were married at Caterham in August of that year and celebrations took place in the park at the back of Royston Villas in Croydon Road, Caterham where Lily's father and step mother lived.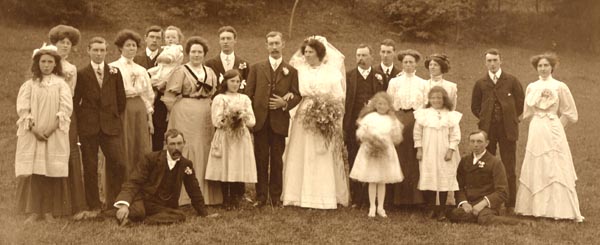 As Tom grew up it was apparent that he was eventually going to pursue a similar occupation to his father. He secured a terraced house at 46 Howley Road, Croydon where the couple lived near the magnificent parish church. He became a Farrier for Thrales the Blacksmiths in George Street, Croydon and this was destined to be his place for work until he retired many years later.
In 1911 there was a happy event with the birth of a boy, Sidney John. War broke out shortly afterwards in 1914 and Tom was excused military duty as he pursued an excluded occupation of Farrier. Disaster however struck during World War I. Lily was having home dental treatment when the dentist administered an overdose of gas. She died as a result when Sidney was only 6 years old. The dentist, distraught, apparently committed suicide some time afterwards.
Bringing up a small boy and working full time was no easy task and Sid's health started to deteriorate. His grandparents on his mother's side scooped him up and took him to Royston Villas in Caterham Valley where he was to grow up in the care of his Donovan grandparents.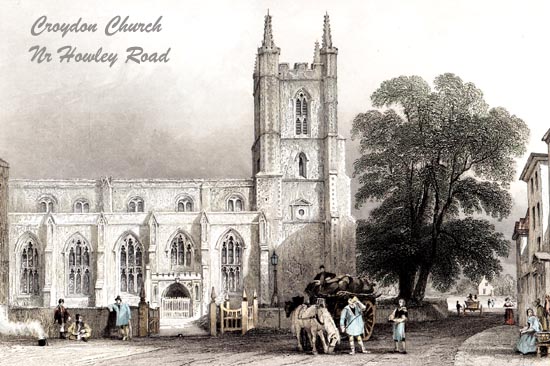 Howley Road had bad memories for Tom but in spite of this he remarried in 1920, staying there until 1929. It was at Howley Road that Tom and Elizabeth had two daughters, Joan and Eileen. Joan the eldest was born in 1921 and Eileen shortly afterwards. Disaster was to strike yet again however. In 1926 Joan, while attempting to stand up under a table, hit her head and sustained injuries that led to her death. Hospitalised, she apparently caught meningitis. Following this Tom with his wife Elizabeth and daughter Eileen moved to 117 Upper Addiscombe Road circa 1929. A lease with 37 years to run was purchased for 850 pounds and a annual ground rent of 12 pounds 10 shillings, much later to be converted to a freehold. This large 4 storey house enabled life to restart and the generous accommodation enabled tenants to supplement the income. Tom's brother Arthur was one such occupant before World War II occupying the top flat, later occupied by Sid and his new wife Kath.

In the 1930s son Sid rejoined his father and lived at '117' as it was known. Now pursing a career in the grocery trade, Sid had secured a position that was too far from Caterham to travel daily. The death of his grandparents who had brought him up at Caterham doubtless precipitated his return to his father's home. During World War II Sid was called up for military service however his new wife Kath and their son Bruce were to reside at '117' until shortly after Sid's discharge on the cessation of hostilities.

Thereafter Tom, his wife Elizabeth and daughter Eileen lived at '117'. While at work, a horse shied and pulled its wall ring from the stall. Tom sustained a permaent eye injury as a result. Eventually Tom Osborne retired from Thrales and returned to part time gardening and keeping budgerigars in an aviary at the bottom of the garden. However a solicitors letter dated May 1928 suggests that the family were having financial difficulties with the purchase of 117, which was a large house. Tom was desperately seeking a loan of 450 pounds, over half the purchase price. This was at a time when the national economy was starting to fail and was obviously a grave matter. When John Donovan, Tom's son Sidney's grandfather died in 1935 he left his substantial estate to young Sid. Tom was one of two executors. The will however was never proved and Tom remained in control of the estate as active executor until one of the houses in Farningham Road, Caterham was sold circa 1951. This 1935 windfall may have been his opportunity to relieve some of the financial difficulties that he, Tom, was in, albeit with young Sid's tacit agreement. It would account for why Sid always considered that he had a stake in 117. After Tom's death, 117 passed to Elizabeth his second wife and then to Eileen on Elizabeth's death. Eileen sold the house having secured the freehold, buying a bungalow in Sussex. Sid always maintained that he had forfeited his stake to Eileen after she moved to the bungalow in Pulborough, Sussex.

Tom died in 1966 following an illness, cared for by his wife and Eileen. Amongst the surviving artifacts is his deed box and the old brass handled bayonet that he used to poke the lounge fire at 117.

Click Website below for more details of 117.



Email: info@thespas.co.uk (click here to send an email)


Website: Click Here

ADDITIONAL INFORMATION



John William Osborne

Alice Osborne (formerly Daniels)

Lydia Bertha Osborne (formerly Donovan)

Sidney John Osborne

Elizabeth Osborne (formerly McCarthy)

Joan Kathleen Osborne

Eileen Margaret Osborne







DESTINY CATEGORY

19th CENTURY second half, 20th CENTURY first half, PAST, PEOPLE

REGION

England - Southern