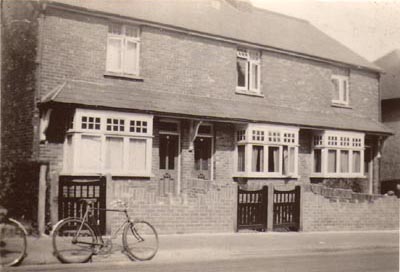 Royston Villas


241-245 Croydon Road
Caterham Valley
Surrey
United Kingdom
CR3 6PG




Royston Villas pictured as they were sometime after World War II, still in a similar state to when originally built and how they appear in 2008.

The date of building is on a brick (illustrated below) beneath the guttering between 243 and 245 the farthest two of the three in the black and white picture. The land for these cottages was acquired in a conveyance of 1904 from Mr Waller Smith to John Donovan. At the time there were two semidetached unoccupied cottages on the site. Croydon Road was known as the Godstone Road and the frontage on the road was 51 feet 6 inches. A property, 82 Farningham Road was acquired at the same time. This was sold in 1951 by Sidney John Osborne and it was this sale that prompted the resolution of the outstanding probate of John Donovan's will.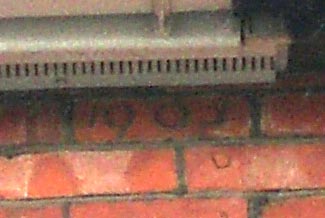 Royston Villas were built in 1905/6 by John Donovan coinciding with his marriage to his second wife Emily Robinson (of Royston). The couple subsequently lived in 241 until 1935. Curly Sexton was a business partner and reputedly did the brickwork. The houses were built in two stages, initially 243 and 245, then 241.

The houses were inherited by Sidney John Osborne under the will of John Donovan who died in 1935. Although probate was secured the will was never proved. The houses therefore remained in the hands of the active executors (Sidney Thomas Osborne and John Thomas Donovan) until 1951/2.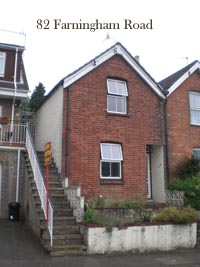 Having been vacant for 2 years, 245 was sold by Sidney John Osborne to his son Bruce in 1966. Bruce occupied the house after his marriage in 1967, together with his wife Pat and later his first daughter Corinna. During this period and subsequently, 245 has been renovated extensively. The house was sold by Bruce in 1971. During the early renovations what was believed to be a well was discovered where the new rear extension was built. This was an artifact from the earlier cottages on the site. It now lies beneath the floor of the rear extension.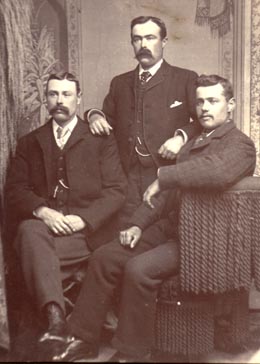 In December 2002 Sidney John Osborne gave 241 and 243 to his sons Lionel and Bruce respectively. Both had been empty for several years. Bruce carried out some renovations on the exterior of 243 and then sold it to a property developer in 2004. Lionel renovated 241 and still owns it in 2008, having sold off the end of the garden by the railway to fund the work.

Tenants

243 – Before the 39-43 war the Voller family lived here with their young son George. Later Tom Fletcher and his wife and two daughters lived in 243 during the 1950s and 60s. He worked for the local bus depot where he was a mechanic.

241 - Cyril Webb brought up a large family in 241 having lived here since the 1930s. He died circa 1970s leaving the property vacant. It was subsequently re-let on short-hold terms.

In the picture right - the builders of Royston Villas - John Donovan III, Curly Sexton and George Risby.





ADDITIONAL INFORMATION





DESTINY CATEGORY

20th CENTURY first half, PAST, PLACES, PRESENT DAY

REGION

England - Southern