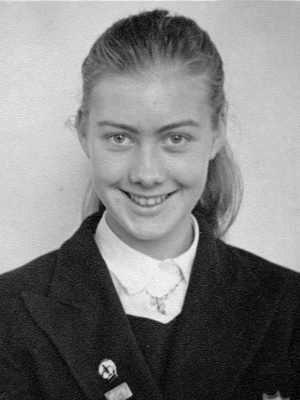 Patricia Margaret Osborne

1943 - 2015
Modget's Cottage
77 Jeals Lane
Sandown
Isle of Wight
United Kingdom
PO36 9NS


On the 38th March 1943 Constance and Joe Dickinson had a daughter in Hornsey, North London. They named her Patricia. Joe was a cabinet maker by trade and later was Clerk of Works at Wandsworth. As a hobby in later years he made and restored furniture to an extremely high quality. This was their first child and was to be their only offspring. After the war ended in 1945, the family moved to North Cheam in Surrey where they enjoyed a new semi-detached house in a quiet road.

Pat was schooled at the local secondary modern school, where she made lifelong friends, particularly a young lady Kay, nicknamed Modget. Holidays were invariably abroad with mother and father and reflected the opening up of Europe to mass market tourism.

After leaving school Pat went on to be a shorthand secretary, an occupation that stood her in good stead until the age of word processors and computers. In 1966 she got to know a young man called Bruce at the local Eighteen Plus Club in Sutton and life took on a new dimension. Suddenly outings with Bruce replaced holidays with mum and dad. Bruce owned a small cottage in Caterham and this opened the door to marriage and the couple married on a cold 7th January 1967 in the St John's Church, Caterham.

During August 1969 Corinna become a new member of the household and the family was forced to move to Tadworth for more space. Two years after Corinna was born another pair of dainty feet graced the family. Pat gave birth to Zelanie and the two lovely girls quickly grew up to be the favourites with grandparents and parents alike.

Before long, career opportunities and the desire to seek new horizons prompted a move to Worcestershire and the purchase of a house that could be called a family home. This archetypal English countryside county provided a charming backcloth to bringing up the two girls. Living in Peopleton, a small village but in a sizeable house, meant that there was an endless flow of family and visitors prepared to take the three hour ride from the south-east. Pat passed her driving test and her white mini became her trademark locally. Family interests at this time included caravanning, flying, canal restoration and boating. Foreign exotic holidays became the norm and both Disneylands in the US were visited.

After many years in Peopleton, Bruce decided that he career was best served in Surrey. Eventually however Pat also gave up the rural environment for bustling outer London Surrey and she returned south with the two girls in the footsteps of Bruce.

Over the years Pat had stayed in touch with a select few of her early friends and Modget, who lived on the Isle of Wight was seen frequently. Unfortunately ill health overtook her and she died leaving her house to her daughter and boyfriend.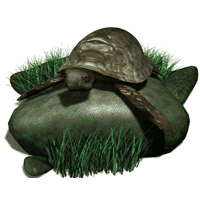 One of Pat's interests throughout her life was her pet tortoises. Timothy in particular was a female tortoise that she had owned since a small child. Timothy had appeared on the George Cansdale Wildlife BBC television program in the 1960s and was something of a celebrity. Timothy died a few month before Pat over the winter of 2013/4.

Modget's daughter and son in law decided to immigrate to Canada in the early 1990s and her house was being put up for sale on the Isle of Wight. Pat decided that she should purchase it and this gave her the freedom to come and go as she pleased.

Purchased in 1994, the house in the Isle of Wight was renamed Modget's Cottage and remained throughout Pat's life a favourite retreat for her. She built up an impressive collection of books on the Island heritage and became a Friend of Osborne House, Queen Victoria's former home. In 1996 Zelanie got married and Corinna a few years later in 2001. This was the start of a new generation of family eventually leading to five grandchildren for Pat to dote on. As the two daughters established themselves and their families in Surrey, Pat was able to spend more time with them.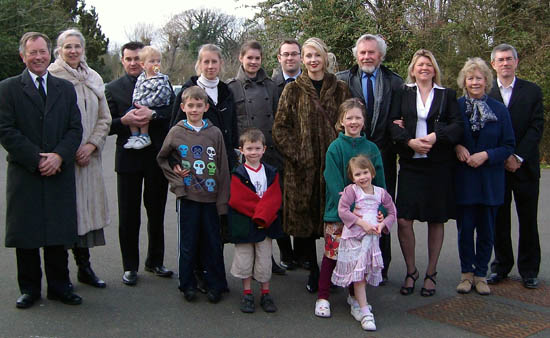 Picture above - Pat with her extended family in 2008 - left to right: Lionel, Naomi, Iain with James, Sean, Zelanie, Joseph, Foy with husband Tom, Alice, Molly, Lauren, Bruce, Corinna, Pat, Jim.
Unfortunately, in the second decade of the twenty first century, Pat succumbed to the ravages of cancer, losing the fight on the 3 January 2015. She is remembered as a faithful mother and grandmother and a stalwart of the family.



ADDITIONAL INFORMATION

Joseph Walter Dickinson

Constance Stella Watts

Bruce E Osborne

Corinna A Osborne-Patterson

Zelanie S Cooper







DESTINY CATEGORY

20th CENTURY first half, 21st CENTURY, PAST, PEOPLE