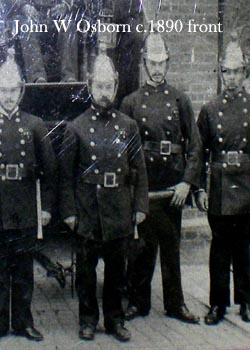 John William Osborn

1852 - 1913
5 Park Road
Caterham
Surrey
United Kingdom
W15 1EX



John W Osborn was born 11 January 1852, the son of a farmer. His parents John Souter Osborn and wife Caroline were farming at Hodcomb, Beachy Head, East Dean, Sussex. John's mum Caroline Hills was daughter of a local blacksmith and had married John's dad John Souter Osborn in 1850 in Hastings.

John was the eldest of the three children, all born in the first 4 years of the marriage; his sisters Maria in 1853 and Ellen born in June 1854. John and Maria had been baptised at East Dean on August 3rd 1853.
Life was to dramatically alter for this young family in 1855 however. In January, during a spell of very cold weather, Ellen the younger sister died aged 6 months. The coroner's inquest returned a verdict of 'congestion caused by intensive cold and neglect'. By this time the family was at 2 Seaside Road, Eastbourne, their father having retired from farming. Following this the parents Caroline and John Souter emigrated to Australia, leaving the two children with the grandparents at East Dean, never to see their parents again.
With the departure of John Souter and Caroline in 1855, the grandparents on his mother's side scooped up the children John and Maria. The grandparents were John William Hills and his wife Flora, blacksmith at Eastdean. By 1861 they are all recorded at The Forge, Eastdean, the nearby Sussex village a mile or so from Beachy Head. John is recorded as a 9 year old scholar and Maria aged 8 similarly a scholar.

At the age of three and a half years John's parents had left him and his baby sister. Today we can only speculate on the mind-set of this young child who suddenly was without his mummy and daddy, his animals and fields and his home. Had he been told that his mum and dad would come back for him and did he keep a daily vigil looking for signs of them? In spite of being brought up in a loving environment, the mental anguish of this abandonment perhaps meant that he distrusted everyone, especially his grandparents who no doubt were confronted with his difficult questions that they found hard to answer. Did their answers reflect their own possible animosity towards their daughter's husband? Such a situation doubtless resulted in mental anguish for all concerned and anger and resentment for John William? Did he as a result grow up to be an angry, stubborn and strong willed, independent young victim, who deep down resented this catastrophic disruption caused by others at such a tender age?

Later in 1862 John Souter's brother William Souter Osborn was to take a 21 lease on a substantial farm at Eastdean called The Gore. The Forge was next door to the Gore farmhouse and here William brought up his family. It is suspected that this move to East Dean was in part inspired by the emigration of John and Caroline and their children being left in England.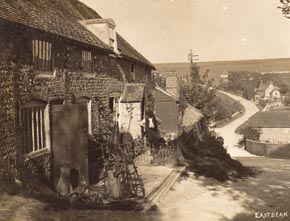 It is worth noting at this juncture that The Forge or Smithy at Eastdean had a long tradition of smuggling. There was a light in the Smithy 'privy' that enabled a discrete, directional signal lamp to be pointed to Belle Tout above Beachy Head and adjacent to Birling Gap. The roof incorporated ships masts and oars as rafters and beneath there is a vaulted cellar used for storage of smuggled goods. At Birling Gap ships were beached as contraband was unloaded and led inland with pack horse trains. It is easy to conclude that the Osborn family was involved. In addition, an ostler had died under suspicious circumstances at Rodmell in April 1855, the year of their departure.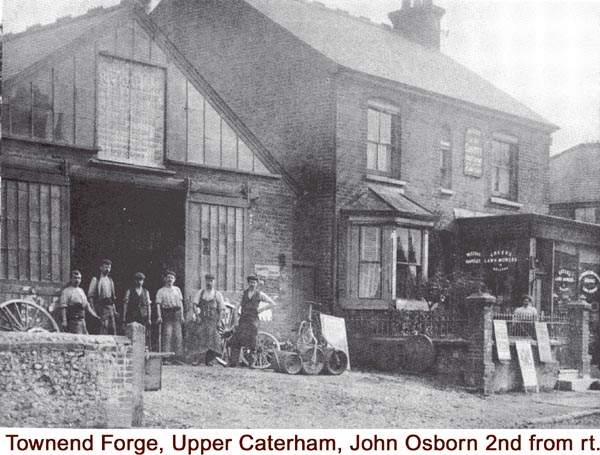 John was brought up, with his sister at The Forge and at the age of 20 married Alice Daniels, a Godstone girl working as a servant in Croydon. This was shortly after William Hills his grandfather at The Forge had died. The marriage took place at Eastdean where John is described as a blacksmith, clearly taking an active hand in the running of The Forge. Thereafter they appear to have moved to Surrey where they were to bring up a large family. Residing in Upper Caterham, John was to work at Robert Vigor's nearby Smithy.
The first two children Alice and Grace like many of the children, were registered in Godstone but then by 1876 the children were being baptized at Caterham. Edith, John and Ernest were baptised in Caterham and then Florence (1881) was registered in Godstone and baptized at Caterham in 1882. The family was clearly not well off and the involvement of Martha Daniels of Godstone, grandmother is apparent when 3 year old Ernest dies of Cancrum Oris in June 1883. This is a disease associated with poor hygienic surroundings and is also known as gangrenous stomatitis, a rapidly spreading ulcerous condition of the mouth that can perforate the cheek and lead to gangrene. Martha was present at the time of death.
Undeterred the family continues to grow with Sidney registered in Godstone 1884 albeit baptized in Caterham. An error at this time resulted in an 'E' being added to the surnames of 2 children, Sidney and later Arthur. After Sidney there followed George, Alan, May and Arthur. By 1894 there had been 11 children, 10 surviving.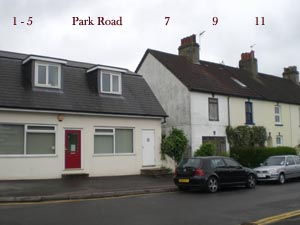 The main residence while at Upper Caterham was 5 Park Road. This house was demolished and replaced by a modern residence some years subsequently. It can be seen from the surviving no. 7 and higher odd numbers in Park Road and the 'footprint' of 1-5, that the house was nothing more than a two up two down cottage. How a family of 10 children could be accommodated in such a residence cannot be imagined. While at Caterham, John was an active member of the local Fire Brigade, together with some of his sons. Legend has it that the principal attraction was that it provided a substantial pair of boots. Much later Sidney John Osborne (grandson) went to the Valley Hotel Fire Brigade Dinners in Caterham representing his deceased grandfather.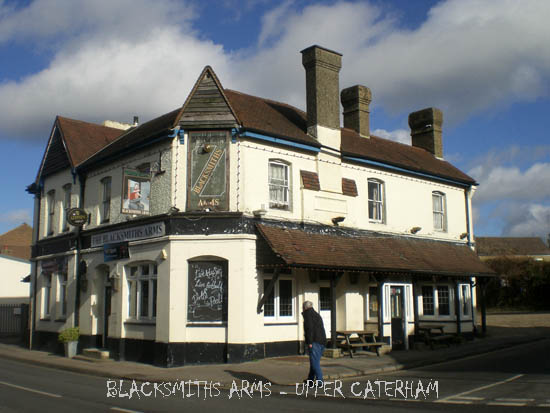 The house in Park Road was a few paces away from the High Street in Upper Caterham and The Blacksmiths Arms. This public house was no doubt fortuitously named and most convenient for John.

About 1900 John, wife Alice and four sons, Sidney, George, Allan and Arthur have moved to Croydon. They had a number of nearby addresses over the ensuing years but first lived at 102 Southbridge Road from 1900 - 1905. At this address John was listed as a 'shoeing smith' and possibly self employed. He appears to have taken over the trade from Henry Othen, the former resident. This small semi detached house is situated just south of the modern flyover over the High Street.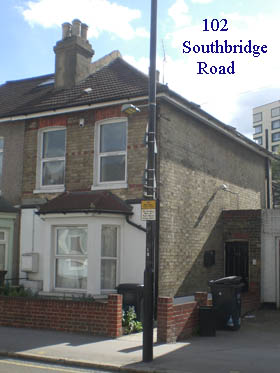 By 1906 they had moved to nearby Duppas Hill Lane for a couple of years before moving to 18 Cherry Orchard Road where he worked for Thrales the blacksmiths in the same road, until his death in 1913. In 1911 at 18 Cherry Orchard Road, John and Alice are recorded together with only two of their children, Allen and Arthur and a grandaughter Ivy Barker.

This family move away from Caterham coincided with cousins Mary Osborn and Ada Adamson moving to Croydon and running a boarding house in Sydenham Road North. The house was called Atherton (no.4) and they were there from 1897 to 1902.

Eventually John William Osborne had secured a position of farrier with Thrales in Cherry Orchard Road where son Sidney would also eventually spend much of his working life.
On the 19 May 1913, at the age of 52, John died of prostrate enlargement. His wife Alice continued in Croydon at 37 Waddon New Road, until 1942 when she died aged 91. John's sister Maria, after being brought up at Eastdean went on to become a shop assistant in Eastbourne.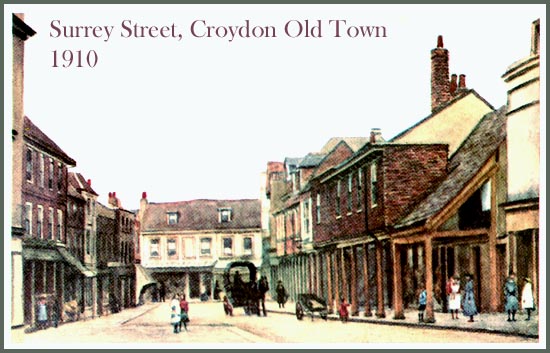 The Children of John and Alice Osborn.

1. Alice Mary was born 18th Jan. 1873 in Godstone, she married a Mr Barker and they had children including Ivy who was with the grandparents in 1911.

2. Grace Emma was born 16 June 1874 in Godstone. She married a Mr Woodcock and their daughter W.J.B. married a Mr Grandy.

3. Edith Martha was baptised 27 Feb.1876 at St Mary's Caterham. In 1907 she married in Putney, Frederick Whiteman, a commercial traveller for Odhams Publishers. She died in 1973 and is buried in Putney Vale Cemetery. He died in 1944. Their son John Whiteman was born in Scotland and became a prison officer. In Sept. 1939, he married Doris E Attwood and in 1980 was living in Selsey, Sx. Their two daughters, Patricia and Linda both married in Carshalton in the 1960s and had families.

4. John William was baptised 27 Jan. 1878 at St Mary's Caterham. John William Osborne lived in Croydon, possibly for the first time in 1908 at 76 The Oval, just off Cherry Orchard Road. In 1911 he was living at 31 West St as a jobbing gardner with Elizabeth Osborne, listed in the census as "wife". Also in the house was Ronald King, "son" and Mary Finch, "mother". According to records however he did not marry Elizabeth King until 1915 in Croydon. Legend has it that he married and had a daughter J. who married into the Voller family. About 1911 he appears therefore to have moved to 31 West Street, near Duppas Hill Lane. This is before moving to 59 Haslemere Road, Thornton Heath in 1939 and eventually 94 Homestead Way, Addington in 1956.

5. Ernest Jesse was baptised 8 Feb. 1880 at St Mary's Caterham. He died 1st June 1883 at Caterham and was buried on the 6th. Three year old Ernest died of Cancrum Oris. This is a disease associated with poor hygienic surroundings and is also known as gangrenous stomatitis, a rapidly spreading ulcerous condition of the mouth that can perforate the cheek and lead to gangrene.

6. Florence Maria was born 23 Oct. 1881 at Godstone and baptised at St Mary's Caterham on the 29th. On 5th Dec. 1909 in Ealing, she married William John Baker (1884 - 1918) who was a Grocer and managed an Off Licence in 1911 living at 632 Kings Road, Fulham. They had three children Kenneth, Marjorie and Betty. Betty lived at 313 Wimbledon Park Road, Southfields and died in the 1990s of throat cancer.

7. Sidney Thomas, born 1884 has his own lifestory which can be accessed by clicking below.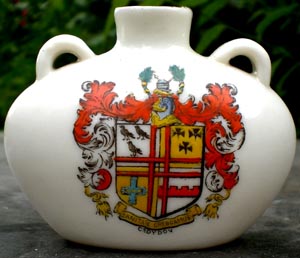 Picture: Croydon Goss china circa 1910, clearly a celebrated place to live at the time.

8. George was baptised 19th Sept. 1886 at St Mary's Caterham and became a chauffeur at Chislehurst. He married Mary A Boyson of Brixworth, Northamptonshire in Oct-Dec 1919. He died in Creton, Northants in 1973.

9. Allen Caleb (Billy) was baptised 7 Oct. 1888 at St Mary's Caterham. In 1911 he was still at home and listed as a "gardener domestic" in the census. He died 31 March 1960.

10. May Janet was born 1st May 1891 at 5 Park Road, Caterham and baptised on 5 July 1891 at St Mary's.

11. Aurthur was baptised 1 April 1894 at St Mary's Caterham. In 1911 he was a "Theatre Domestic" in the census and still lived with his parents. Before the war he lived at 117 Upper Addiscombe Road, his brothers house, prior to serving in WWII. He married Dorothy M Fisher in 1923 at Woolwich and they had Joyce M. She married Peter Chaplin in 1946 at Croydon and lived at 78 Ashburton Av. Croydon in the 1980s. In the 1950s Peter and Joyce had two children Keith and Linden, the latter going to New Zealand.

Research continues into the whereabouts of the surviving family and anyone with information should contact Tower House, KT20 5QY. UK. bruce@thespas.co.uk

Email: info@thespas.co.uk (click here to send an email)


ADDITIONAL INFORMATION



John Souter Osborn

Caroline Osborn (formerly Hills)

Alice Osborne (formerly Daniels)

Alice Mary Osborn

Grace Emma Osborn

Edith Martha Osborn

John William Osborn

Ernest Jesse Osborn

Florence Maria Osborn

Sidney Thomas Osborne

George Osborn

Allen Caleb Osborn

May Janet Osborn

Arthur Osborne







DESTINY CATEGORY

18th CENTURY second half, 19th CENTURY first half, PAST, PEOPLE

REGION

England - Southern