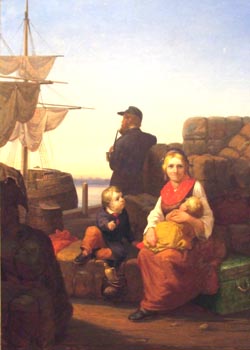 John Souter Osborn - the original Bush Baptist*

1816 - 1895
Hodcombe Farm (also known as Hotcomb)
East Dean
Sussex




John Souter Osborn was born in Ditchling in 1816, the son of a yeoman Sussex farmer. At the time his father William Osborn and mother Grace were in the process of moving from Hammonds Mill in Clayton to Warren Farm/Hoddern Farm at Telscombe.

John had an elder brother William and a sister Mary Ann. William had been born in 1812, just two years after his father's first wife Sarah had died. His mother was Grace Souter, who his father married in November of 1812 by special license. She was likely the housekeeper at Lucas's, the farm where his father had been farming in Cuckfield. In the same year, 1812, his father had moved to Hammonds Mill. John's elder sister Mary Ann was born a year later.

John was therefore brought up in Telscombe and all three children had the name Souter as one of their Christian names. This was possibly because the birth of William in 1812 had been an embarrassment and the child had initially been called Souter as a surname. The adoption of the name for all three children therefore meant that there was no anomaly prevailing for the next generation to speculate on. It was not until 1836 however that the three children were formally christened.

John's father died in 1838 and thereafter farmer John resided at Newdean Farm, Telscombe with his mother and sister Mary as is revealed by the 1841 census. Also at Newdean was James Forfar (60yrs) and Emma Comber (15yrs). William is elsewhere in Telscombe having just married Mary Verrall.

The "O zone" comprising Warren Farm/Hoddern Farm and its environs is high on the Sussex Downs. Here the Osborn's likely farmed Southdown sheep, which were to make such an impression on the Australian economy in the 19th century. They also had the tavern the Brewers Arms Inn at Portobello, high on the cliffs above the shoreline on the edge of Telscombe. John's father William died in 1838 and the family kept the farm and tavern going thereafter with their mother Grace, who survived until 1847. Son John was present at the time of death and noted as from Telscombe. In view of his later life, one can speculate that John ran the tavern at Portobello and possibly even went across to California during the gold rush (1843-1849).

In 1841 brother William had married a local girl from a farming family, Mary Verrall. Initially remaining at the family farm at Telscombe, he become a Sussex farmer in his own right, later with lands at East Dean. Meanwhile John's sister married Edward Baker, son of a local brickmaker, in 1845. They went on to run the brickworks at Piddinghoe for many years.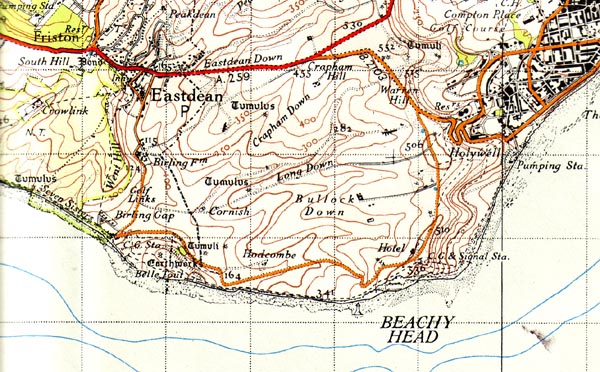 John's choice of spouse was Caroline Hills whom he married in 1850 in Hastings where she was residing at the time. They married in St Mary's in the Castle chapel, part of a recent impressive development called Pelham Place, located below the castle. A Mrs Hills ran a boarding house at 2 Denmark Place and this may have been a relative with whom the bride stayed. Caroline was the 21 year old daughter of a Sussex blacksmith. John Hills of East Dean, Sussex. Following in father's footsteps as farmers, the newly weds took over Hodcomb Farm, East Dean on Beachy Head in the same year. This farm was described in 1851 as of 243 acres employing 6 labourers and a servant. It lay immediately below the Belle Tout lighthouse, high on the Sussex Downs.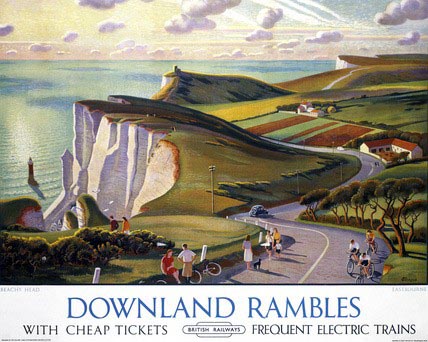 In 1852 John and Caroline Osborn's first child arrived. John William was born in January and a sister Maria followed in 1853. A third child, Ellen followed in June 1854; all at Hodcombe, the marital home.

Life was to dramatically alter for this young family in 1855. By January 1855 the family, comprising John Souter, Caroline and daughters Maria and Ellen were at 2 Seaside Road, Eastbourne. Son John William was not recoded as present although may have been.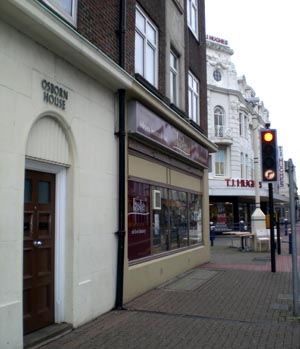 In January, during a spell of very cold weather, Ellen the younger daughter died aged 6 months. The coroner's inquest returned a verdict of 'congestion caused by intensive cold and neglect'. Caroline was criticized for her lack of caring of her children, noting that she was not particularly kind to her children. Their father John Souter was recorded as having retired from farming and may by then already be planning a move away from the area. Seaside Road was and still is in the town centre in Eastbourne. Trinity Trees is the former western end of Seaside Road past the Holy Trinity Church and Osborn House is named on a modern day development but also appears in the 1876 Directory as 4 Seaside Road. The contemporary maps however indicate 2 Seaside Road as the end plot on the present day site of T J Hughes departmental store, where Seaside Road now ends. The relevance of Osborn House in Trinity Trees is open to speculation but may have been named after Ellen or the Queen's residence in the Isle of Wight.

Following this incident Caroline and John literally disappeared, albeit much later rumored to have emigrated to Australia. Caroline's parents the Hills, scooped up the grand children John William and Maria and by 1861 they are recorded at The Forge, East Dean near Hodcombe Farm and Beachy Head. Seven years later in 1862 John's brother William Souter Osborn was to take a 21 lease on a substantial farm at East Dean called The Gore, adjacent to the Hills forge where the parentless nephew and neice were still being brought up. It is not known whether there was any connection with the earlier disappearance of the parents, Caroline and John, although it is likely. By then Hodcombe Farm was occupied by John Walters.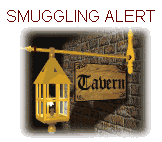 It is worth noting at this juncture that The Forge or Smithy at East Dean had a long tradition of smuggling. There was a light in the Smithy "privy" that enabled a discrete, directional signal lamp to be pointed to Belle Tout above Beachy Head and adjacent to Birling Gap.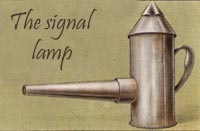 The roof incorporated ships masts and oars as rafters and beneath there is a vaulted cellar used for storage of smuggled goods. At Birling Gap ships were anchored while contraband was unloaded and led inland with pack horse trains. Parson Darby's hole was a series of rooms in the chalk cliff with an access from the beach, much enlarged by smugglers. It is easy to conclude that the Osborn family was involved.

It is apparent that the rural economy in certain coastal areas was substantially aided by revenues from smuggling during the first half of the 19th century. This however was not to last and the formation of the Coast Guard in 1822 was the start of bringing smuggling under effective control. New and more cunning methods were adopted by the smugglers and the Coast Guard became equally cunning in their efforts to thwart the illicit trade. The Preventive Services also became much more disciplined and fell under naval control. The big blow to the smuggling was the reduction in export and import taxes in the 1840s taking away the profits that were to be had. By the 1850s only the foolhardy tried a big run as it was just not worth the risk.

There are numerous incidents recorded of smuggling at Beachy Head and one suspects that the local farmer must have been involved. Click the panel to find out more details of such incidents.

Another favourite pastime for the same local populace was wrecking. A ship wreck off the cliffs was an opportunity not to be missed. The cargo was considered 'fair game' and the salvaged accessories of the ship were also valuable. It was like winning the lottery for some who were prepared to brave the storms and gales to rescue what they could from the waves.

Having invested his inheritance in Hodcombe, John Souter probably found farming tenuous without the dwindling support of the illicit trade, hence his premature retirement. Coupled with the death of his daughter in 1855 he was likely seeking new horizons, away from any animosity shown by the local populace. One hypothesis is that the daughter Ellen died while an overnight smuggling operation was taking place. Perhaps it was the derricking incident at Beachy Head which was linked to Hastings where John had connections. The possibility of the parents being absent would account for some of the circumstances detailed in the Cornoner's Inquest on Ellen's death.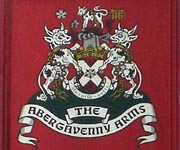 Then there was the strange death of William Brown, an ostler, at John's brother-in-law's Abergavenny Arms at Rodmell in April 1855. Recorded as a suicide, was this related to John's disappearance? Click the arms to find out more. Perhaps it was the ostler who betrayed them with the result that the osler was dealt with by friends and family while John and Caroline chose to disappear overseas.


According to Betty Baker of Wimbledon (a grandchild of John William Osborn, the son of John and Caroline), someone in the family past had gone to Australia. Betty recalls meeting John's sister Maria when Maria was a shop assistant in Eastbourne.

Was John S Osborn influenced in his decision to emigrate by William Brodie, founder of the Edgmond Evangelical Church in Eastbourne? Educated in Eastbourne and Blackheath, William was only 9 years old when his father died unexpectedly in 1828. At the age of 15 he became a midshipman in the merchant navy for 3 years. He then went on to Trinidad, spending a year on a sugar plantation. Following this he then visited Australia and New Zealand where he kept a sheep ranch for 8 years. After a spell of bushwhacking in New South Wales he returned home to Eastbourne about 1848, living with his mother and sister at The Gore, a house in Eastbourne. He was 29 years old on his return and therefore a contemporary of John Osborn, each born 1819 and 1816 respectively. In 1851, William Brodie gave a lecture to the Literary Institution in Eastbourne about his experiences entitled 'Life in the Colonies'. Did John and Caroline attend the lecture and was the seed of emigration planted at this time? (Source: Davies M. Eastbourne Local Historian 148, Summer 2008, p.20)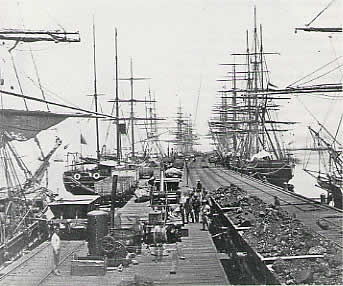 Another influence on John and Caroline to emigrate may have been the local newspaper, the Sussex Express. Each week during the mid 1850s, two shipping lines. Black Ball and White Star. promoted their passages from Liverpool to Melbourne, Australia. The passage took between 60 and 70 days, depending on the conditions and the ship. In 1854 White Star had new clipper packets and offered onward transportation to Sydney, Geelong and Adelaide for 16 guineas upwards (just over one thousand pounds in todays value). Black Ball offered similar but also threw in Van Diemens Land and New Zealand as onward destinations, all via Melbourne. As these were the only advertisements for emigration at this time John and Caroline may well have been tempted. (ESRO XA28/23)

AUSTRALIAN GOLD BONANZA? - The Tragedy Unfolds:
For well over 150 years Caroline's and John's disappearance was a well kept family secret. Its details were lost as the few with knowledge took the secret to the grave. Then the amazing power of the internet produced an unexpected random search result in July 2011, 30 years after Bruce started researching the gap in our knowledge. John Souter Osborn was declared insolvent in 1856/7 in Adelaide, South Australia. From this and subsequent research the pieces of the jig saw start to make a bizarre picture.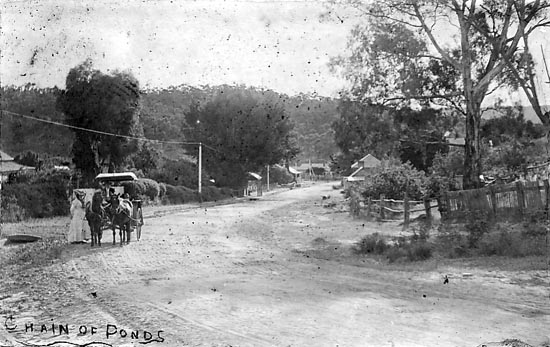 Picture - near North Gumeracha 1907.

After the death of daughter Ellen in England during January 1855, Caroline and John journeyed to Australia in the sailing ship "Africa". Weighing in at 1474 tons it sailed from Liverpool on July 20th 1855 for Melbourne. Caroline was three and a half months pregnant and it was not until 5 November that they arrived at their destination. Then they had to transfer ship to the Havilah for onward passage to Adelaide, arriving on the 10th November. They sailed self-funded second class (intermediate)and although well versed in the ways of the sea would have found the voyage an awesome ordeal.

Gold had been discovered in the Gumeracha area in 1854 and so the prospect of a gold bonanza was enticing. By December 1855 they had leased the Robert Burns Hotel in North Gumeracha (now Forreston), together with 30 acres of land.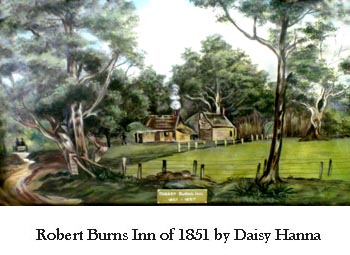 This township lies some 30 miles east of Adelaide and was very much in its formative stage of development at the time. They also had a new arrival in the family, a son - Henry Osborn. Born on the 1st January 1856, he was another factor in establishing their new life in South Australia. If early in 1855 the custody of the two surviving children in England had been placed in the hands of the grandparents against the parents wishes, then Australia was probably one way of ensuring they had custody of the forthcoming child. Alternatively they may have expected to reunite with the two English children in Australia in the future, once they were established and wealthy.

Disaster was quick in coming and in February 1856, Henry died. The Salem Baptist Church, Gumeracha, burial record shows him interred on the 27th February, he having died on the 25th, just seven weeks old.

The "Bobbie Burns" as their new home and business was known, looked like an ideal choice for the immigrants. John's family upbringing and background in farming and the Brewers Arms Inn at Portobello, high on the cliffs at Telscombe, together with Caroline's experience in the boarding house in Hastings before she got married, would, one assumes, have provided valuable expertise for a similar occupation in Australia. The association with Robbie Burns is also intriguing. Burns, the Scottish poet was apparently a customs official but also is noted in 1778 for spending his nineteenth summer on a smuggling coast, at a school in Kirkoswald, where he learns mensuration, surveying, dialling, etc., but makes a greater progress in the knowledge of mankind. He falls in occassionally with the smugglers, and learns to fill his glass and mix without fear in a drunken squabble. Just before his 29th birthday, Burns decided to put his education to good use by seeking a steady, well-paid job as an exciseman. An exciseman was employed by the government in what today would be HM Customs and Excise to ensure that people paid their taxes, particularly where related to alcohol. It was not a "trade" that was admired by the common people however.

Unfortuntely this dream of a prosperous new life for Caroline and John was not to be.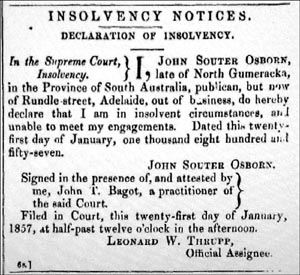 By mid year 1856 the couple were in financial trouble when the landlord of the Robert Burns Inn demanded the quarterly rent. Unable to pay they moved out, attempting to secure their possessions at the time, including things they had brought from England. When the insolvency notice was published 22 January 1857 in the South Australian Government Gazette, they were living in Rundle St. Adelaide. By March they had moved to adjoining Hindley St. Adelaide. John was formally declared insolvent as a result of two court hearings in March 1857. The debts amounted to some 308 pounds with assets a mere 25 pounds.

The period from the insolvency to 1870 is something of a mystery. John is variously described as a labourer. However being a Baptist, and thus a member of a group who campaigned against alcohol and had strong lifestyle principals suggests they were intent on rebuilding their lives. By the 1870s, documentation confirms two children and that John was a Farmer and Labourer. This of course is his farming occupation and children back in England. Also by the 1870s Caroline and John had moved on and were living in Halifax Street, Adelaide.

The loss of the farm at Hocombe, the death of Ellen and then Henry and the financial disaster when they attempted to settle in Australia all no doubt had a deleterious impact on John. With his mental health failing him, he turned to religion. Mental illness was less understood than it is today and Burton's Anatomy of Melancholy first published in the 17th century gives clues as to how it was dealt with. Republished in 1849 it was at the time considered state of the art with regard to mental health, deriving much of its knowledge from the ancient classical philosophies. Anger was considered a madness that could overwhelm a person, especially if they love or hate overmuch. The cure raised the conflict between religion and the physicians. The former seeking God or the Saints as the vehicle for resolving the malady, whereas the physicians sought a cure in science based treatments, albeit most rudimentary. With his life in ruins, John clearly had anger problems and it was religion to which he turned for solace.

In 1870 John was incarcerated in the old Adelaide Lunatic Asylum as a result of a court hearing in September. This is known from the newspaper report, asylum records and a court application of August 1873 in Adelaide. Caroline submitted in 1870 that he did not drink but that the cause of his strangeness was reading religious works and want of exercise. Apparently he had threatened to cut his wife's tongue out. John would have been 57 years old by this time. Described as a Baptist, "religion" is noted by the Asylum as the cause for his unfortunate mental condition that made him dangerous to others! He was discharged on 8th December 1870 but his freedom was short lived.

The newspaper editorial tells the story:

LAW AND CRIMINAL COURTS. POLICE COURTS. ADELAIDE: THURSDAY, JULY 31. [Before Mr. S. Beddome P.M.] South Australian Register (Adelaide, SA : 1839-1900) Friday 1 August 1873 p 3 Article

'John Souttar Osborn, Osbom, labourer, was charged by his wife Caroline with being a pauper lunatic. Informant said that he had several times threatened to knock her brains out. He also threatened the life of the person in the house. Three years ago he was released from the Lunatic Asylum, and witness was recommended to get some person to care for him. Mr Beddome said there was no evidence of lunacy, for many hundreds of husbands said worse things than defendant, and were not lunatics. Osborn stated that he did not approve of the woman in the house, as she was a bad character, and his reputation was thereby injured. Mrs Osborn said the woman was respectable, and the defendant was under the delusion that all his friends were laying traps for him. Remanded for medical examination.'


It is now known that John returned to the sheltered environment of the Adelaide Asylum again in 1873; then in 1874 was transferred to Parkside Asylum, where he remained until his death. During the 1880s he is recorded as suffering from senile dementia albeit otherwise in good health. (The old Adelaide Lunatic Asylum is pictured right) His death is recorded as follows:

John 'Sowter' Osborne died 16 September 1895 at Parkside, Adelaide age 80 years. YOB about 1815. Registered at Norwood, South Australia. (page no. 210, Vol. 229.) The cause of death was senile decay and paralysis.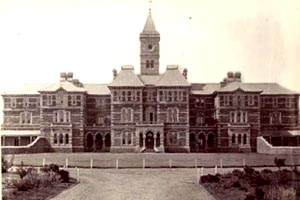 Parkside Asylum (picture left) was a substantial mental health institution opened in 1856 in Adelaide, later the Glenside Psychiatric Hospital and now a film studio.

Caroline also died in Adelaide on the 25 Sept 1905, age 76. Registered at Adelaide. (page no. 282 vol.312) Both are buried in the West Terrace Cemetery, Adelaide.

....and so closes this unfortunate story of an emigration that unfolded as a tregedy on the other side of the world in Australia. No wonder Caroline's ghost haunts Hodcomb farmhouse on Beachy Head, Sussex, where she probably spent the four happiest years of her life. (click web site below for details of haunted Hodcomb)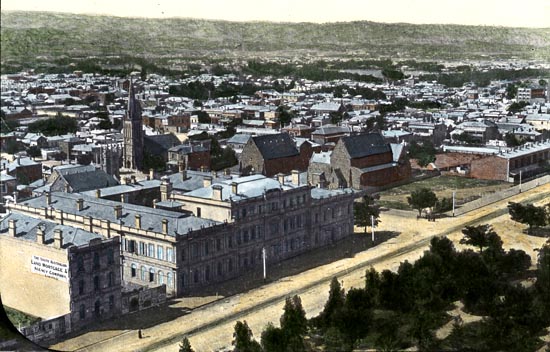 Picture: Adelaide at the time Caroline and John Osborn where there. Click the link kangaroo for more details of Gumeracha and Adelaide.



One can not help feeling that William, John's brother, was probably aware of the adverse sequence of events unfolding in Australia before 1860. This may therefore have been a contributory factor in his deciding to move to The Gore, East Dean where he could provide assistance and back up to the elderly Hills who were bringing up Caroline's and John's first two children. Once John had been committed to the asylum in 1870 there would have been no hope of them returning to England to collect the children, leaving him and Caroline to live out their lives in the land far away from relatives and friends as best they could. The ignominy of the events in both England before they departed, and the events in Australia would ensure that the circumstances remained a closely guarded family secret for almost ever....

Email: bruce@thespas.co.uk (click here to send an email)


Website: Click Here

ADDITIONAL INFORMATION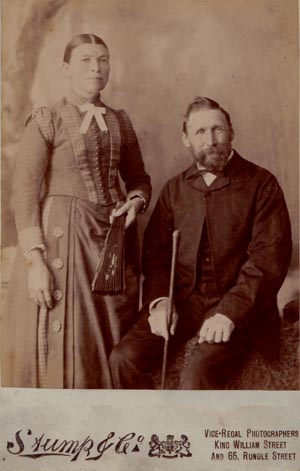 *Bush Baptist - A slang expression for 'a person of doubtful or eccentric religious persuasion'; 'a person of extreme, even fanatical, religious beliefs'. The term was first recoded in writing in the Ragged Trousered Philanthropists, a novel by Robert Tressell first published in 1914. Based on his own experiences of poverty, exploitation, and his terror that he and his family would be consigned to the workhouse if he became ill, Tressell embarked on a detailed and scathing analysis of the relationship between working-class people and their employers. It is in the 'bush' that Baptists imagined themselves coming closest to realising this quest to be Australian. In an effort to cope with the disasters that he endured, John became what was perhaps the original and archetypal 'Bush Baptist'.

Is the picture left John and his wife Caroline around the 1860s? Taken in Adelaide, he would have been in his late 40s at the time. Caroline would have been in her late thirties. The picture came to light in England but without any firm provenance.

Johns life story is recorded in print in "A Tragic Adventure". This is a private publication by Dr Bruce E Osborne published in the early 21st century. Copies are available in Gumeracha, East Sussex and Adelaide record offices.



William Osborn - yeoman farmer

Grace Osborn (formerly Souter)

Caroline Osborn (formerly Hills)

John William Osborn(e)

Maria Osborn

Ellen Osborn

Henry Osborn







DESTINY CATEGORY

19th CENTURY first half, 19th CENTURY second half, PAST, PEOPLE, Smuggling

LANDSCAPE

Coastal

REGION

England - Southern