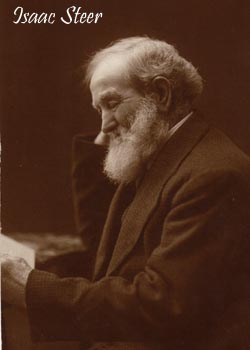 Isaac Steer

1843 - 1921
Meadvale
Reigate
Surrey
United Kingdom




Isaac was born in Kirdford, Sussex in 1843, the son of carpenter William Steer and his wife Lucy. Described as a short active man he became a bricklayer by trade and a keen member of the Society of Dependants, a religious group. He had three brothers.

In 1876 Isaac married Eliza Durrant (formerly Walder) in Reigate. He was her second husband and she came with a 10 year old daughter Mary. Mary went on to marry a Mr Kirk and they had a daughter Gwenfra who lived in Denmark Road, South Norwood. Interestingly Isaac's brother William apparently married Caroline Walder, the sister of Isaac's wife.

Isaac and Eliza lived in Meadvale, Reigate, where they had three more children.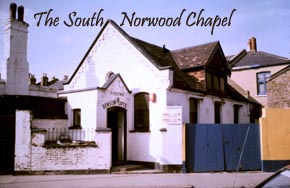 Being an active member of the Society of Dependants, Isaac would walk to South Norwood chapel on a Sunday to preach, using a map drawn by John Sirgood, the charismatic leader of this religious sect.
After the 1880s, the family relocated to several addresses in the Croydon area: 1891 80 Denmark Road, South Norwood and 1901 42 Woodside Avenue Croydon. Eventually the family moved to 2 Cobden Road, South Norwood where Isaac secured a position with Randall Slades of Denmark Road. The Steer grandchildren at this time recall him as a kindly man who carried a bible. Isaac died in 1921 at the age of 78 years of cancer of the bladder.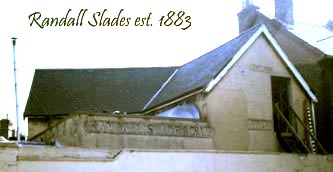 In 1983 Bruce attended a service of the Society of Dependants at their Loxwood Chapel. About 12 elderly people sung unaccompanied hymns, said prayers and voiced testimonies. After the service and at a subsequent meeting, a Mr G Goodwin, being 76 years old, recalled Isaac Steer in South Norwood. He was a lively little man who always preached with his right hand in the air, described as a kindly, good man. Mr Goodwin also knew Isaac's grandaughter Gwenfra and about the connection with Randall Slades. Apparently the children all went to Portland Road School together. Isaac Steer's grandchild Fred Steer subsequently recalled Mr Goodwin, who once lived in the Croydon area.

So what became of their children?

Edith Lucy, born 1878 in Reigate, by 1891 she was still at home with her parents working as a dressmakers assistant. She then married William Henry Page, the son of Jim Page of Loxwood, a member of the Dependants religious sect. They had three children, Henry 1902-1926, Violet who moved to York and Bertie who became a Lieutenant Colonel and lived in Brighton and Shoreham.

Elizabeth Ellen, born 1880, went on to marry Edward Hoskin, supposedly a Welsh Miner but born in Redhill. They lived in Slough and had three children, Ted, Henry and one other.

William Isaac, born 1881, married into the Grange family in 1906. His detailed profile can be seen by clicking below.
The Society of Dependants - This small religious sect owed its origin to John Sirgood, who came to Loxwood from Clapham in London in 1850. It was a

working class organisation that did much to improve the lot of those suffering harsh employment conditions, particularly women. They were nicknamed Cokelers because of the supposed preference for cocoa rather than alcohol. By the time of Sirgood's death in 1885, the Dependants were estimated to number c. 2000. In their heyday they had meetings in Loxwood, Northchapel, Warnham, Shamley Green (Surrey), Plaistow, Wisborough Green, Chichester, Hove, Portslade and South Norwood. They founded village stores, which employed many of the members, particularly the women. These stores were tremendously successful. By 1990 only a few elderly adherents remained. Click the picture left for more details.






Email: info@thespas.co.uk (click here to send an email)


ADDITIONAL INFORMATION



William Steer

Lucy Steer (formerly Pacey)

Eliza Steer (formerly Durrant/Walder)

Edith Lucy Steer

Elizabeth Ellen Steer

William Isaac Steer







DESTINY CATEGORY

19th CENTURY first half, 19th CENTURY second half, 20th CENTURY first half, PAST, PEOPLE

LANDSCAPE

Country town/village, Urban

REGION

England - Southern