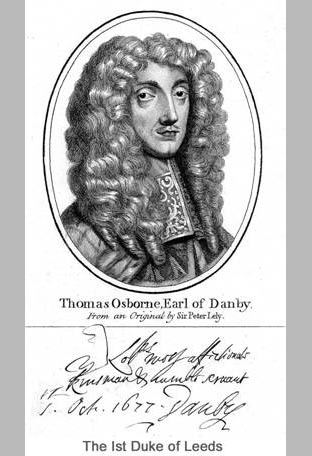 Historical Summary 2

Dukes of Leeds




The ducal family of Leeds can be linked to the Osbornes of Surrey through the armorial provenanace. Kelly's Handbook of the Titled, Landed and Official Classes or Burkes Peerage, Baronetage and Knightage both give details of the lineage of the Dukedom.

This line can be traced to Ashford in Kent in the 15th century and was to produce great noblemen who exerted much influence over the centuries on the history of England. During the reign of Henry V1 (1422-1461) John Osborne of Canterbury occurs in Kentish gentry. Edward Osborne, the eldest of three sons of Richard Osborne of Ashford, who in turn was the son of Richard, came to London and was apprenticed to a clothworker, one William Hewitt, from 1547. Hewitt was an old school chum of Richard who had recently died and Edward was brought to London by his widowed mother. The masters house was on Old London Bridge and perched some fifty feet above the river. A servant "Tib" was gossiping out of the window one day, holding Anne, the Master's only child, on the window cill. The sudden appearance of Osborne startled the servant and the child fell into the river. Osborne immediately dived in and saved the Maiden. From that point on Ned Osborne's future was secured. Seeking approval to marry Ann, William Hewitt is quoted as sayong "He that shall save, The same shall have". Osborne married Anne in 1559.[1] Osborne went on to inherit the wealth of the Hewitt family estates in Kiveton and Hartshill, becaming Lord Mayor of London in 1583.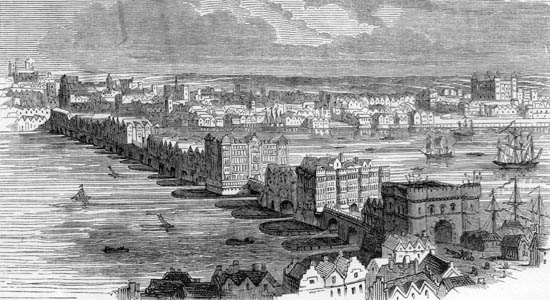 WHERE IT ALL BEGAN - LONDON BRIDGE
From this fortuitous beginning it was Ann and Edward Osborne's great grandson Thomas, who became Lord Treasurer of England and Chief Minister to Charles II and First Duke of Leeds in 1694. Osborne descendants never reached such heights of power again although many continued to be politically active as well as prosperous. The year 1549 saw the start of a connection with the Isles of Scilly that was to last 282 years, as Governors of the Islands

The penultimate Duke of Leeds was John Francis Osborne who succeeded in 1927. The family seat was Hornby Castle in Yorkshire. He died in 1963 leaving a daughter Camilla, wife of Nigel Dempster deceased, the columnist. The Dukedom passed briefly to an elderly cousin in Rome , Sir Francis d'Arcy Godolphin Osborne, who died in 1964, leaving an extinct barony.

[1] Osborne E (undated) The Colloquies of Edward Osborne, Arthur Hall, Virtue, London, p.61/2,285.



Website: Click Here

ADDITIONAL INFORMATION

LINEAGE

Richard Osborne (c.1470- ) of Ashford in Kent.

Richard Osborne (c.1500-c.1547) of Ashford Kent, c.1530 married Jane/Anne Broughton, daughter of John Broughton of Westmorland.

Sir Edward Osborne (c.1530-1591), apprentice to William Hewitt and Sherriff of London married Ann Hewitt 1562.

Sir Hewitt Osborne(1567-1600) of Kiveton, Yorks, married Joyce Fleetwood.

Sir Edward Osborne (1596-1647) of Kiveton, Yorks, married Margaret Belasyse.

from whence followed THE DUKES OF LEEDS

1694 Sir Thomas Osborne, 1st Duke of Leeds (1632-1712) of Kiveton, Yorks - Edward Osborne, Viscount Latimer (1655-1689), eldest son of the 1st Duke, died without surviving issue.

1712 Peregrine Osborne, 2nd Duke of Leeds (1659-1729) also Viscount Osborne of Dunblane, second son of the 1st Duke.

1729 Peregrine Hyde Osborne, 3rd Duke of Leeds (1691-1731), only son of the 2nd Duke.

1731 Thomas Osborne, 4th Duke of Leeds (1713-1789), only son of the 3rd Duke

1789 Francis Godolphin Osborne, 5th Duke of Leeds (1751-1799), only son of the 4th Duke - Other titles (6th & 7th Dukes): Baron Darcy de Knayth (1322) and Baron Conyers (1509).

1799 George William Frederick Osborne, 6th Duke of Leeds (1775-1838), eldest son of the 5th Duke.

1838 Francis George Godolphin D'Arcy D'Arcy-Osborne, 7th Duke of Leeds (1798-1859), eldest son of the 6th Duke, died without issue - other titles (8th Duke onwards): Baron Godolphin (1832).

1859 George Godolphin Osborne, 8th Duke of Leeds (1802-1872), eldest son of the 5th Duke's second son, The Lord Godolphin.

1872 George Godolphin Osborne, 9th Duke of Leeds (1828-1895), eldest son of the 8th Duke - George Osborne, Earl of Danby (1861), eldest son of the 9th Duke (then Lord Carmarthen), died in infancy during his grandfather's lifetime.

1895 George Godolphin Osborne, 10th Duke of Leeds (1862-1927), second son of the 9th Duke.

1927 John Francis Godolphin Osborne, 11th Duke of Leeds (1901-1963), only son of the 10th Duke, died without male issue.

1963 Francis D'Arcy Godolphin Osborne, 12th Duke of Leeds (1884-1964), grandson of Lord Godolphin's third son, died without issue, at which point all of his titles became extinct....or did they?





DESTINY CATEGORY

15th Century, 16th CENTURY, 17th CENTURY, 18th CENTURY first half, 18th CENTURY second half, 19th CENTURY first half, 19th CENTURY second half, 20th CENTURY first half, Historical summary, PAST, PEOPLE

REGION

England - Northern, England - Southern