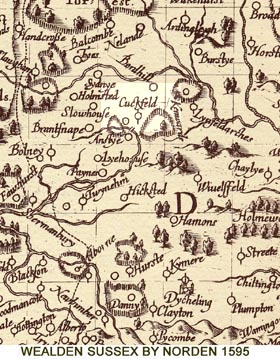 Historical Summary 5

Osbornes of the Weald
with land called Wigberie/Wigperry and Lucas's.




Earlier we recorded Alice and John Osborne, with lands in Withdean in the 16th century, having two grandsons by their son John (c.1520 - 1597). Both grandsons were called John. It was John the elder (c.1550 - 1607) who was to create a lineage from which the Tadworth Osbornes can trace direct decent. John the younger went on to marry and establish a long lineage of Osbornes at Poynings and Newtimber as has been covered in the previous Historical Summary 4.

John Osborne the elder and his descendants were a farming family at a time when the Weald was being cleared and reorganised for agriculture, following the degeneration of the region during Saxon times and the more recent dissolution of the Monasteries. John the elder established himself as a Yeoman in Wigberie, Cuckfield during the 16th century. Elizabeth I would have been on the throne and England was benefiting from the reforms brought in by her father Henry VIII. John the elder's two sons Edward (1) and Nicholas both gave rise to long Osborne Wealden lineages. Nicholas appears to have inherited the Wigperry estate which is mentioned up to 1680 when his grandson Richard appears to have surrendered the tenure and relocated the family interests to Chailey where an Osborne Farm is mentioned in the 19th century. The Nicholas lineage is not traced beyond the 18th century however and likely became extinct.

It is John the elder's son Edward (1), also a Yeoman, whose line is of special interest. Having moved to Cuckfield at the age of 14 years about 1594, Edward (1) married Mary Colebrook, a local girl, in 1604. They had nine children between 1604 and 1624 including Edward (2) in 1621.

Edward (2) married twice, firstly Mary by whom he had three children including Edward (3) and then Hannah Marshall producing three more children. Edward (2) is recorded as a butcher who had resettled in Lindfield in 1666 and for a while the Osborne lineage appears to have moved out of farming although he does appear to have been involved in various Cuckfield land transactions after the move to Lindfield. One in particular is an indenture with Francis Lucas for lands in Cuckfield in 1697. This may well have been the Wigberie land subsequently known as Lucas's that on the 1638 manorial map reproduced by Ford and Gabe (1981) is described as "Edwards Ho and Land". Was this Edward Osborne (1)? Frances incidentally was the wife of Walter Lucas, a Wivelsfield family who later acquired Little Hayward nearby in 1712.(F & G p.22/3)

Edward Osborne(3) was born in 1667 in Lindfield and was eventually to marry Ellene. Edward Osborne(3) and Ellene had three children between 1703 and 1707 including an only son Henry, born 1704 at Hamsey in Sussex.

Henry Osborne grew up to become a carpenter, marrying a Lindfield girl Mary Young and they had William (1) (1745 - 1798), one of seven children, most of whom died as infants.

William Osborne (1) the survivor married Hanah of Patcham first and following her premature death, in 1764 he married Elizabeth Mitchell in 1765. The Mitchells were a Stanmer family and the couple married in Keymer church. They appear to have settled in Keymer, where the couple were to raise three sons. The eldest of these three sons William Osborne (2) (1771 - 1836) re-established the Osborne connection with farming and the land, a tradition that perpetuates to this day with Melton Hall Farm. Interestingly it was Lucas's in Cuckfield that William Osborne(2) was to farm in the early years of the 19th century, the farmhouse itself dating from the late 16th century. Was this the ancient family land holding surrendered by Richard Osborne in 1680 and indentured by Edward Osborne (2) and Francis Lucas in 1697? The 1874 OS 6 inches to the mile map shows Lucas's just to the east of Haywards Heath Station, with Wigperry Road 300 yards to the south. Wigperry is known to be land which lay around the old courthouse (Steeple Cottage) coincident with the road of the same name.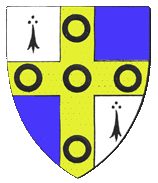 From this we can conclude that Lucas's was probably the same land as, or adjacent land to, Wigperry, originating in the estate of John the elder. Thus there is this Osborne link with the same area of land from the latter part of the 16th century to the early 19th century. How it passed down the generations is still not fully understood.

William (2) subsequently went on to farm at Telscombe and his detailed life-story is covered elsewhere. This line of Osbornes have the entitlement of the armorial as described earlier in the Historical Summaries.

Reference Sources - family archive material + Ford W K & Gabe A C The Metropolis of Mid Sussex (1981) Charles Clarke Ltd.



ADDITIONAL INFORMATION





DESTINY CATEGORY

16th CENTURY, 17th CENTURY, 18th CENTURY first half, 18th CENTURY second half, 19th CENTURY first half, Historical summary, PEOPLE, PLACES

LANDSCAPE

Country town/village

REGION

England - Southern